Your Experts + Our Expertise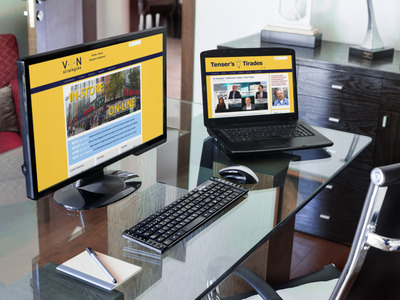 VSN STRATEGIES PROVIDES COMPREHENSIVE B2B story strategy, coaching, editorial planning, copy and creative services, leveraging our deep knowledge of retail, technology, operations, and consumer markets.
Our scope of practice ranges across the extended Retail Consumer Products industry. VSN maintains exceptional subject-matter depth related to store and digital retailing, brand marketing, retail tech innovation, implementation, inventory and merchandising, shopper behavior, in-store sensing, Retail Media and more.
We invest the time and effort to fully comprehend your business challenges and market objectives to deliver the highest level of clarity and precision. It's our reputation at stake too, and we do not compromise on quality.
VSN's methods are grounded in the philosophy that your solution story, regardless of your technical sophistication, is only as compelling as the business reasoning behind it. We dig deep to bring your differentiation and value to the surface and share these in language that is persuasive to your audience.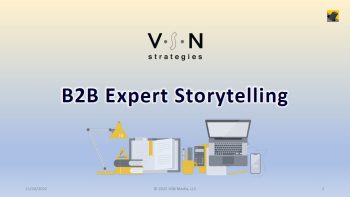 B2B Expert Storytelling

™ Coaching
VSN works closely with clients to surface and define expert stories that are highly relevant and persuasive to decision makers. We collaborate with your marketing team and subject matter experts on a day-to-day basis, but we recognize that our true mission is to empower your front-line sales people. Our process identifies and creates powerful, persuasive, timely stories so your whole business development team confidently carries your message to clients and prospects.
A retained VSN engagement establishes a monthly rhythm where we identify Expert Storytelling opportunities, develop and maintain an editorial plan in concert with your team. We write copy, develop eBooks, moderate webinars and podcasts and coach your SMEs. Projects may be assigned to our creatives and/or your experts according to defined goals. We consult with you on an ongoing basis to keep the messaging on track.
Expert Story Workshops
VSN guides your sales and marketing team through a structured process that identifies compelling and relevant story opportunities. We lead a workshop at your premises or via remote platform and deliver an editorial agenda. Expert story assets may be published under the bylines of your experts or presented as "commissioned" to VSN, as needs dictate.
VSN Gold Papers™
We invented the Gold Paper™ to help solution providers deliver a more dynamic, focused and effective communications alternative to the common white paper. Custom-written Gold Papers define the distinctive insights behind your solution offerings with brevity and precision, to help your account executives counter objections and expedite the sales cycle.
VSN Research POV
VSN dives deep into your survey dataset to extract key nuggets that drive great stories. We help you expand these into multiple POV Papers or other content assets that extend the exposure of your proprietary research across several months, yielding greater ROI on your initial investment.
Custom Engagements
VSN engages your subject matter experts and market leaders to surface their industry thought leadership. We interpret your data and conduct industry research that sharpens your message. Working collaboratively, we unearth insights and develop thought leadership assets that refine and elevate your story with the right voice, to the right audiences.
Contact Us for a detailed quote.