Workshops & Presentations
VSN Strategies Principal James Tenser is a frequent speaker, moderator and facilitator at industry conferences and company meetings in the United States and around the globe. In addition to the topics featured here, he develops custom workshops and keynote talks to meet client needs. Please contact us for booking at 520-797-4314 or use our Contact Form.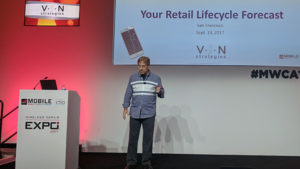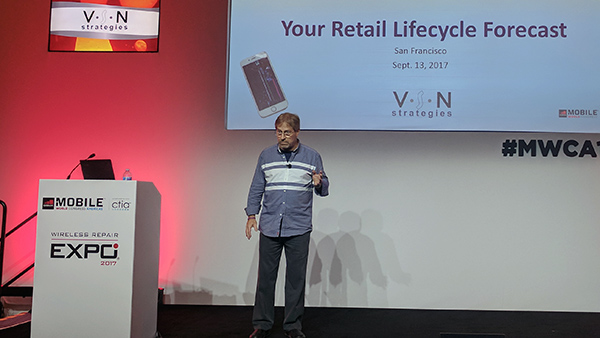 The Incredible Dissolving Store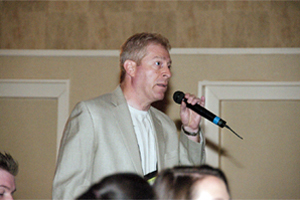 Description: Consumer Products Retailing is evolving to a new normal, marked by vastly more information and dramatically less control. The mounting influence of social, mobile, local, search media and other so-called "big data" cause the boundaries that used to separate shopper behavior in-store from the outside world to become porous. As a result, retail is entering a "post-loyalty" era. This workshop reveals why these trends compel retailers and brands to adapt to a world of faster data and infinite connectivity, where every consumer moment is a moment of truth.
Learning Outcomes: Familiarize participants with emerging trends show them practical ways to apply the learnings within their own organizations. It may be presented as a half-day workshop.
Big Data in Consumer Marketing
Description: A detailed review of findings from the Big Data in Marketing survey, conducted by VSN Strategies in collaboration with the Shopper Technology Institute and originally presented by James Tenser at the LEAD Marketing Conference. Respondents were executives from food & beverage, health & beauty and general merchandise manufacturers.
Learning Outcomes: A series of benchmarks are presented based on the survey results, encompassing: Big Data readiness and adoption across the CPG industry; Big Data activities, analytics and derived insights; and Big Data strategic priorities.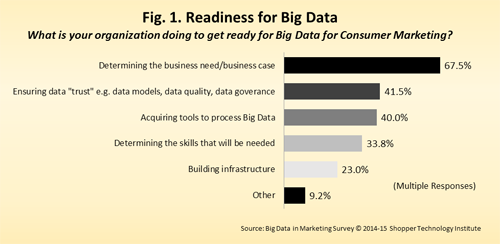 iSTOREi In Action
Description: A solution-focused overview of the educational mission of the In-Store Implementation (iSTOREi) Network, beginning with the background and formation of the In-Store Implementation Sharegroup, to the publication of its 2008 Working Paper, to its emergence as a knowledge clearing house for iSTOREi Case Studies, Research and Best Practices. Continually updated with the latest case study content from the iSTOREi Knowledge Base.
Learning Outcomes: Familiarize participants with iSTOREi core concepts and show them practical ways to apply the learnings within their own organizations. It may be presented as a half-day workshop.
Category Management 2.0
Description: A call to action for retailers and consumer product manufacturers, rallying them to close the persistent gap between consumer insight and in-store implementation that plagues the industry and limits its profit opportunities. Category management has so far failed to meet its considerable promise as a core business practice. In its next revision, CM2.0, it has potential to re-invigorate the go-to-market system for consumer goods.
Learning Outcomes: A four-step strategy is proposed whereby the industry may collectively identify and confront (1) continuous CM analytics and insights; (2) operational analytics; (3) the in-store implementation gap; and (4) reconcile consumer demand variability with the push-oriented supply chain.
Selected Appearances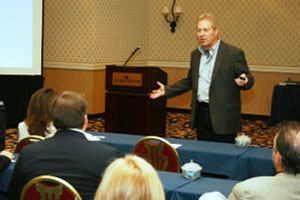 Presentation "Your Retail Lifecycle forecast" at Wireless Repair Expo/Mobile World Congress (Sep. 13, 2017, San Francisco)
Webinar "SCAMP: Deconstructing Shopper Experience in a Big Data World," in Digital Disruption and the Retail Experience, Customer Experience Thought Leader Forum (Mar. 20, 2014)
Presentation "The Incredible Dissolving Store (Meta Edition)," at Dassault 3DExperience Customer Forum (Nov. 13, 2013, Las Vegas)
Panel Leader "The Incredible Dissolving Store," at Retail Customer Experience Executive Summit (Aug. 15, 2013, San Diego)
Panelist "The Evolution of Retail as We Know It," at RECon Global Retail Real Estate Convention, International Council of Shopping Centers (May. 19, 2013, Las Vegas)
Panel Moderator "Pricing Transparency," at eTail West Conference, Worldwide Business Research, (Feb. 27, 2013, Palm Springs)
Presentation "The Incredible Dissolving Store," at Future of Category Management Forum, Kantar Retail/WPP (Oct. 17, 2012, Rosemont, IL)
Panel Moderator: "Coupon Redemption," LEAD Marketing Conference, Shopper Technology Institute (Oct. 2, 2012, Rosemont, IL)
Podcast: "Why (most) retailers shouldn't worry about showrooming," RetailCustomerExperience.com (July, 6, 2012, Tucson, AZ)
Workshop Leader: "Sense & Perform: Finding Best Practice Benchmarks for In-Store Implementation," LEAD Marketing Conference, Shopper Technology Institute (Sep. 19, 2011, Rosemont, IL)
Keynote Address: "Welcome to Your Cyberstore," Annual Franchise Meeting, Pinch A Penny, Inc. (swimming pool supply retailer) (Jan. 3, 2011, Orlando, FL)
Luncheon Address: "Welcome to Your Cybercenter: How Social Media and Digital Marketing are Radically Reshaping Shopper Expectation," Pathway to the Future Seminar, International Council of Shopping Centers (Oct 24-26, 2010, Orlando, FL)
Workshop Leader: "In-Store Marketing ROI," Strategic Vision Group Pte. Ltd., Two-Day Educational Workshops (Aug. 2-3, 2010, Jakarta, Indonesia; Aug. 4-5, 2010, Singapore)
Keynote Address: "Understanding Shopper Experience," Sonoran Spring Grapes Summit 2009, Asociación Agrícola Local De Productores Uva De Mesa (Table Grape Growers) (April 16-17, 2009, Hermosillo, Sonora, Mexico)
Presentation: "Retail's Space-Time Continuum (How In-Store Implementation Tools Can Re-Order Our Universe)" and "Sampling Bits and Digital Demos: Defining a Customer-Centric Approach," NARMS Executive Conference (National Association for Retail Merchandising Services) (April 5-6, 2009, Colorado Springs, CO)
Presentation: "The Implementation Imperative: It All Begins in the Store," MVI Future of Food Retailing Conference (Management Ventures Inc.) (March 17, 2009, Cincinnati, OH)
Presentation: "Digital Signage Meets Shopper Media," Digital Signage Expo (Feb. 24-26, 2009, Las Vegas, NV)
Presentation: "Implementation into Action," Category Management Association Conference (CPG CatNet), In-Store Implementation Sharegroup Panel (Oct. 28-30, 2008, Atlanta, GA)
Keynote Address: "Giant Killers: How Small Retailers Can Prosper in the Next Economy," Northshore Business Conference, Southeast Louisiana University (Sept. 25, 2008, Slidel, LA)
Panel Presentation: "Not TV!!" Must Have Technology That Drives Strategic Ability, Digital Signage Expo (Feb 28, 2008, Las Vegas, NV)